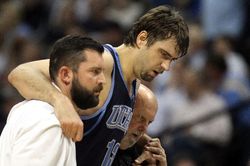 It was a tough injury at the time: Mehmet Okur going down with a ruptured Achilles tendon in the Jazz's first playoff game. It meant he out for the playoffs — and the fate of the Jazz was sealed. It also meant the native of Turkey would miss the FIBA World Championships his nation is hosting this summer. A double blow.
Now, it looks like he might not only miss training camp but also the start of the season. That according to David Locke, who is the voice of the Jazz.
Memo continues to work hard in his rehab.  All reports have him being very diligent. He has been shooting and doing a little running.  He will be heading down to the training center in Santa Barbara to do some more intense training.

It is still unclear when he will be ready.  The opening of the season seems to be a lot to ask and maybe the more important question is when will he be right on the floor again rather than when will he get on the floor again.
Locke is right about that last thought — better to have Okur come back 100 percent and wait than to race back for some November game soon to be forgotten. The Jazz are a playoff team whether he misses some games or not, but without the floor spacing and rebounding Okur brings, they don't go far once in the playoffs.