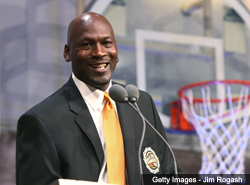 Michael Jordan went to play baseball as a quiet suspension for his gambling activities. It's an accepted truth in America, right up there with the man on the grassy knoll and the aliens at Area 51.
Except that maybe it's not true. None of it. Especially the MJ part.
Tuesday night the latest in ESPN's fantastic "30 for 30" series continues with "Jordan Rides the Bus" about MJ's time — at the peak of his basketball career — that he left to play minor league baseball.
The rumors have been for years that Jordan walked only because David Stern was punishing him for his gambling ties. But Ron Shelton — the director of the new documentary — said he looked into it, and told the Chicago Tribune there was no truth to it.
"I probably, like most people in America, thought he left the NBA for a year because of gambling," Shelton told us Monday. "After researching the project, I was utterly convinced that was nonsense. And probably like most people, I thought he was a catastrophically bad baseball player. And after researching it, I got a different view about that, as well…."

"Everybody that I talked to said they spent hundreds of hours looking for smoking guns and there is not even a leak; it's just circumstantial. It's just a theory," he said.
Jordan is a personality that needs a challenge in front of him. After a three-peat with the Bulls, was the NBA still a challenge? Throw in that Jordan's father, a huge baseball fan, had just been murdered and you start to see more logical pieces fall together. Jordan had the emotional ties to baseball, something rekindled by his father's death, and he needed a new challenge.
But that's no fun. It's more logical that there was some grand conspiracy that was covered up. That the CIA moved and switched JFK's body, but nobody ever talked in an era when we know all the cold war secrets of that era. That the same government incapable of tripping over its own feet can keep an alien spacecraft and the bodies of extra-terrestrials secret in the desert for 50 years.
Maybe Jordan just wanted to play baseball. Why is that so hard to believe?