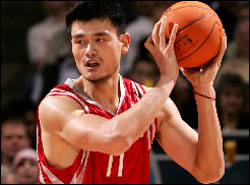 On opening night, after the Lakers put up their banner and get their rings, they are going to have to deal with Yao Ming.
Monday Rockets doctors cleared Yao for basketball activities and Tuesday he was on the court banging bodies with Chuck Hayes and others, according to the Rockets official Web site.
"Yesterday when I heard the news I feel that, not just me, the entire medical staff including Rockets staff, their efforts in last year all paid off," said Yao. "I'm just looking forward to playing a great season in 2010-2011 and I think I can count on my foot now."
The last time Yao was on an NBA court was a 2009 playoff series against those same Lakers, when he limped around for a game only to find out he had fractured bone in his foot. It was so serious it required surgery and a year away from the game.
"Conditioning-wise, I'm missing all year from basketball and I'm really not in good shape right now. I'm probably a little bit away from game shape. But the good news is we still have one month to the training camp and 2 months until the season."
If Yao is back and healthy — and can stay that way — the Rockets become the biggest challengers to the Lakers in the West. But that is a big "if" and a lot of games from now.
Today, it was just about celebrating being back on the court.