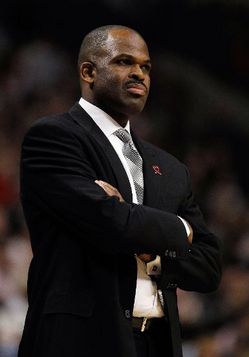 Nate McMillan has been at the helm of a basketball renaissance in Portland. This was a team that won 21 games his first year with a roster led by Zach Randolph and Darius Miles — a roster that needed an overhaul. That overhaul came and so did the wins (and a better reputation).
Two years ago they won 54 games and were seen as the upstart team that would threaten the Lakers soon. Last season they won 50 games and made the playoffs despite a swarm of injuries.
Yet while most of the nation thinks McMillan can do no wrong, there are plenty of Blazers fans that want him gone. His teams play at a dreadfully slow pace (slowest in the NBA last year at 90 possessions a game) that may not best utilize their talents, and there was questionable handling of Sergio Rodriguez and Rudy Fernandez.
This goes beyond the usual "fire the coach" crap that takes place on message boards in every city (there are Lakers fans who consistently complain about how poorly Phil Jackson coaches). There are serious and legitimate concerns about his ability to take the team to the next level, and he will have to address them come playoff time or he may well be gone. Dave at Blazers Edge explains.
(In recent interviews he did) I was fairly bold in speculating that if Portland fails to make the second round of the playoffs this year Coach McMillan's job will be in jeopardy and my hunch is that he'll be let go.  Part of that is reasonable.  This roster isn't going to be overhauled in the near future.  These specific players need to win.  Failure isn't an option. How many years can they play together and not advance in the playoffs before they begin to doubt?  Part of it is environmental.  When doubts start to arise in this league the first, and easiest, turn-around is to get a new coach.  Sometimes the fresh voice helps.  Often it only confirms the futility of the situation.  Either way, it's going to be tried.  Plus you have to figure that Nate is not Rich Cho's hire any more than he was Kevin Pritchard's.  Few coaches survive one regime change in management.  Unless things go well, how do you survive two?
There are a lot of people predicting a breakout year for the Trail Blazers, that they may be the second best team in the West. A spot that looked like was theirs two years ago but injuries robbed them of last season. If they do not look like a team ready to take on that mantle, to look again like a team that is on its way to greatness, McMillan may well be gone.