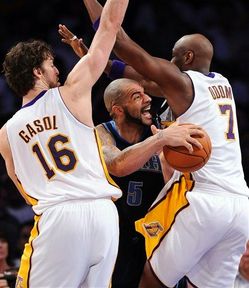 Carlos Boozer is one of those guys shifting the power in the East. He has gone from a loaded Jazz team that couldn't quite get past the Lakers in the West to a loaded Bulls team that nobody thinks can get past Boston or Miami in the East.
Boozer doesn't see it that way; he thinks the Bulls are in the mix, as he told Dime Magazine.
Boston represented the East last year and I think until somebody beats them in the Playoffs, they're going to be the team to beat. You know, I think two years ago with Orlando representing the East and then last year with Boston … In my opinion, those four or five teams that I just talked about will be in competition for that top spot. I think Boston, us, Miami, the Hawks (and Orlando) will be right there in the mix for that top spot. But who gets it, we'll have to wait and see.
That chance to compete was part of it, but why Boozer chose Chicago was bigger than that.
Just everything was encompassing. I think the talent was obviously there; they have a bunch of young talent. I know with D-Rose and Joakim (Noah) and Luol Deng, and then you add me to the mix with the young guys that they got. Then the Draft last season and with a new coach that won a championship in '08 with the Celtics, it just seemed like the right fit. You know, I think [it's] a team that's really going to get back to that championship level. They have [the plan] in place just to get it done, they just need to put some more pieces into the puzzle and I'm looking forward to being a part of that puzzle.
The Bulls put together a really good puzzle this summer. The question s did the Heat put together a much better one?