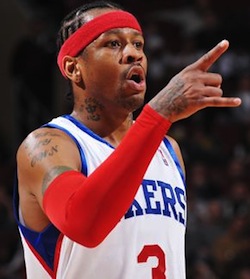 Rumors leaked out this week that Allen Iverson could play next season in New Orleans or Orlando. And as quick as those rumors started, officials from those teams shot them down.
Iverson scares NBA teams because last season he showed he was not ready to accept a non-key role, even though that's what his game now demands. The experiences of Memphis and Philadelphia have teams scared.
But where could he end up? NBA.com took some guesses.
New York Knicks… Has there ever been a more perfect setting for a gutty, gritty actor like Iverson to take his final bow than Broadway? No little guy has ever been slapped and hammered down to the floor like A.I., but kept getting back up and never forgetting his lines. He's been a star of the highest magnitude and could live in the spotlight of Madison Square Garden.

Charlotte Bobcats… Larry Brown knows that he can't resist a challenge and that he is the one coach who has been able to battle through the idiosyncrasies and get the most out of Iverson.

New Jersey Nets — Does the Russian billionaire Mikail Prokhorov with all of those rubles to burn in his deep pockets really want to make his NBA debut with Jordan Farmar, Travis Outlaw and Troy Murphy as his headline acquisitions out of the great 2010 Free Agentpalooza?
There are other teams suggested, like the Miami Heat, which is simply not going to happen.
But the fact of the matter is none of these teams makes sense because they are trying to build something and Iverson would be a major distraction. Unless he really has learned lessons from the disasters of last season in Memphis and Philadelphia.
Maybe he has. Maybe he hasn't. But is an NBA team trying to rebuild going to take a risk on that?