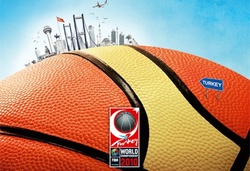 Every soccer (or football, if you're elitist and so prefer) player on the planet would give his right hamstring to play for his nation in the World Cup. It is, without question, the biggest stage for the biggest sport in the world. Everyone who can stand, plays.
Basketball's World Championships start Saturday, with many of the world's top stars taking the event off. LeBron James, Dwyane Wade, Kobe Bryant, Dwight Howard and everybody else from the 2008 USA Olympic team is staying home. Spain's Pau Gasol is out. Argentina's Manu Ginobili is out. Germany's Dirk Nowitizki is out. France's Tony Parker and a number of other NBA players are sitting this one is sitting out. And so on and so on…
For basketball, the Olympics has become the gold standard. FIBA's plan to change that? Change the name and steal soccer's World Cup idea, according to the Sports Business Journal.
The International Basketball Federation (FIBA) has been considering switching the name for more than a year, with possibilities such as the FIBA World Cup, the Basketball World Cup or the World Cup of Basketball being discussed. The federation's board is expected to vote on a name change in 2011.

"It's a work in progress, and it seems like a likely outcome for the 2014 championship," said FIBA Secretary General Patrick Baumann. "It's not yet a decision, but people are getting more and more friendly with the idea, and that helps."
Among those down with the change is David Stern — we Americans get the World Cup thing even if we don't get soccer. The name change could make it an easier sell. Plus, as we have noted before, whatever David Stern wants, David Stern gets.
Will that change things in the States? We grow up here with an Olympic fascination, we have been indoctrinated that it is the ultimate showcase of athleticism. It's true for gymnasts, high jumpers, bobsledders and basketball players alike. The gold medal is our ultimate goal and achievement. Changing a name alone will not change that mindset.
The 2014 World Cup will be hosted by Spain, the 2010 gold medal winners. What, you think somebody else is going to take it?