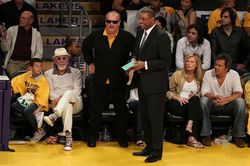 Doc Rivers came back to the Celtics because he wanted to make one more run at it with this group, he believed that this unit had one more title in it.
Of course, there are a couple obstacles to that. For one, there's that Laker team that just beat the Celtics in the finals.
But Rivers still believes Boston was the better team when healthy, as he told John Thompson when he was on ESPN 980 in Washington D.C.
They still have not beaten our starting five. Our starting five against the Lakers starting five has a ring. Tell him don't forget that. We will be back strong and Perk (Kendrick Perkins) will be there next year if there's a game seven."
I hate the "what if" injury game. Doc, I'll counter your "what if Perkins was healthy for Game 7?" with a "What if Andrew Bynum had been healthy the entire series?" The what if game is circular.
But before Boston can worry about the Lakers, the Celtics have to get out of the East. And we all know that Miami is going to be good, including Rivers, but he wonders about their defense.
Will (the Miami trio) work? Eventually it will work. Will it work right away? I coach the Boston Celtics so I hope not. I do think people are all focusing on the wrong thing. I think everybody is talking about shots. Is there enough shots, will they have enough shots, will they be able to play together, whose going to take the last shot and that could cause turmoil, but I think the key for them is will they defend? Because if they defend and get stops, they're talented enough offensively to get points. The key for them is will they buy into being a defensive unit."
Rivers has one new big addition this season in Shaquille O'Neal – who may be key in getting past Miami in the playoffs, But Rivers is honest about how hard working Shaq into the Celtics system can be.
My biggest concern honestly coach is defensively because every time Shaq comes on the floor, everyone is going to run pick and roll and no one has been successful in figuring out how to use him and I'm no smarter than anyone else. That's all we've been focusing on this summer is trying to figure out what we're going to do in pick and rolls when he comes into the game."
That is about where the interview ended, as Rivers had to go to his local church and make an offering, light a candle and pray for his team to stay healthy.