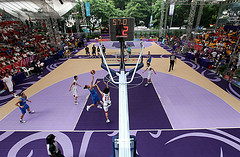 At the Youth Olympics that you are not paying attention to Singapore (they are still going on), there was, of course, basketball.
3-on-3 basketball. Half-court. For gold medals.
And according to the Edmonton Sun, we may see more of it — like in the regular adult Olympics.
The overwhelming success of three-on-three basketball at the inaugural Youth Games is a strong enough argument for both versions of the discipline to be included at future Olympics, according to the sport's organizers.

Buoyed by strong attendances and a positive response at the Youth Olympics in Singapore, International Federation Basketball (FIBA) secretary general Patrick Baumann is already seeking ways to take the smaller form of the sport to a bigger stage.

"Yes, absolutely," Baumann told Reuters when asked if there would be a time when two basketball events would be staged at a full Olympics. "It would never replace the basic basketball, it is different. It is a tournament on its own. It is not a side tournament or an auxiliary event… it is a whole discipline on its own."
Sort of the beach volleyball to the indoor game. Although frankly, we'd all rather watch Misty May-Treanor and Kerri Walsh own the sand than the indoor game. Basketball might be different that way.
The 3 -on-3 rules are Paul Westhead's idea of heaven — a 10-second shot clock, two periods of five minutes each, scored by twos (or threes) and if a team reaches 33 points inside the 10 minutes its game over. Fast paced, lots of gunning, more of a sprint than anything else.
The USA did not win the gold, so for four years from now we need the youth Redeem Team put together, clearly.
This might be entertaining. But an Olympic sport? Well, if solo synchronized swimming and curling are Olympic sports, then yea, bring it on.