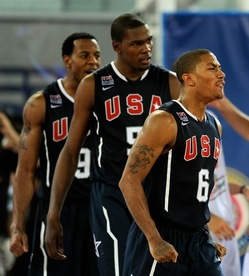 Both Team USA and the Spanish national team were reluctant to reveal
their full arsenals, but today's friendly between the two FIBA
powerhouses was easily the Americans' most entertaining exhibition yet.
Neither squad was flawless in their execution, but Team USA's quality
performance against their top opponent in the World Championships (even
if Spain wasn't giving it a proper go) leaves a far sweeter aftertaste
than yesterday's bitter win over Lithuania.
Spain isn't going to shoot 22.7% from three-point range very often.
They're also not going to fumble so many passes out of bounds. Yet Team
USA's defensive success overall was no fluke, as the Americans' length and
athleticism caused all kind of problems for Spain both inside and out.
Marc Gasol, as expected, got his. He finished with 17 points for the day. But Gasol only shot 41.6% from the field. His turnaround jumper
will be there against Lamar Odom and Gasol can really work the high
post against Tyson Chandler. Still, Team USA can live with that. As
long as Gasol's production remains reasonable, he doesn't offer an
unmatchable advantage. The Americans can utilize their size on the
wings and their quickness in the backcourt just as Spain can utilize
Gasol, and the give and take of those positional match-ups is just part
of what makes a USA-Spain collision course so intriguing.
The
slim point differential (Team USA won by a single point, 86-85) shouldn't be too concerning. Spain is just that
talented of a team, and they're understandably both the Americans' most
feared and most respected opponent. It showed. Team USA looked truly
prepared to play against Spain. Not against an international opponent
using FIBA rules, but against Spain. They played the screen-and-roll game well, knew where to cut off passing lanes, took
away a pet play or two, and showed the impact or proper preparation.
I'm honestly not sure what the game plan was against Lithuania, but the
Americans took a double-digit lead against what could be the top team
in the tournament, all while letting Rajon Rondo and Danny Granger
cheer from the bench.
Rondo is clearly a central part of Team
USA's plans at this point. That leads me to believe that Mike
Krzyzewski was holding him back rather than "benching" him, and the
same could possibly be true of Granger. While Spain's coaching staff
chose to play the entire game man-to-man rather than turning to their
vaunted zone defense, Coach K opted to sit one of his top perimeter
defenders and playmakers in Rondo, and a skilled shooter in Granger.
Having both of those guys available for full-time duty changes the
overall feel of the team (which I imagine is why Krzyzewski chose to
sit them against an opponent he's sure to see again later), even if allocating some of Rudy Gay's minutes to Granger doesn't seem like a tectonic
shift.
For the first time in Team USA's pre-tournament exhibitions, Kevin
Durant looked like the star that he is. KD has had a rough stretch,
shooting-wise, against China, France, and Lithuania, but he dropped 25
points on 56.3% shooting from the field this afternoon. Like it or not,
this is about how dominant Durant will need to be for Team USA to put
away their more competitive opponents.
Not that he didn't have help. The burden of being his team's primary
scorer was lifted from Durant's shoulders, as Derrick Rose took over on a
pair of high pick-and-roll sets. Rose's speed was lethal off the
screen, and he was able to drop a bucket and draw a foul to score just
enough for a USA victory.
The Americans' clutch play on the other end, however, came down to two of
their leaders: Kevin Durant and Mike Krzyzewski. Coach K called for a
zone look — the only zone Team USA played in the entire game — on
Spain's final offensive possession out of a timeout, which completely
shook Spain's prescribed set. Ricky Rubio and Rudy Fernandez were left to take heavily contested jumpers off of failed penetration, the second of which Durant swatted
out of bounds as time expired. Leaning too heavily on the zone would
undoubtedly come back to bite Team USA, but credit Krzyzewski with
knowing exactly when to unveil it in this game.
The exhibition W may
technically mean nothing, but Coach K has shown he's willing to shake up
defensive coverage to get the jump on other teams, and that's valuable.
Closing thoughts:
Traveling violations continue to be a thorn in Team USA's side. Some of
those travels are legitimate (Durant seems to have a problem with
taking a step before dribbling off the pump fake/hestitation), and
others just a typical byproduct of FIBA officiating. The refs are bad. Really bad.
Ricky Rubio is 19 years old, and he's fantastic. You take the bad with
the good when it comes to Rubio; was it necessary to make a no-look
pass on Spain's final possession? Hardly. Did he really need to attempt
the around-the-back-pass-turned-turnover that led to a key Team USA
layup? Definitely not. Yet for each of those moves he had a beautiful
find or a terrific on-ball steal, and then some. He's so talented
already, and we can only hope he makes his NBA debut sooner rather than
later.
Lamar Odom got the start at center over Tyson Chandler, and played
rather well. Odom was probably the Americans' top screener, and Team
USA's squadron of point guards did a great job of finding Odom around
the rim. He finished with 12 points and nine rebounds in 29 minutes. 
Juan. Carlos. Navarro. He should still be in the NBA, but the
basketball gods so rudely stole him away from us to hide him overseas,
his floaters and jumpers never to be seen again by most NBA fans.
Navarro was Spain's top scorer with 20, and it's clear that when these
two teams meet again in the elimination rounds, Navarro will be a point
of emphasis for Team USA's defense. Iguodala did a good job of
defending him, but I'd love to see Rajon Rondo have a crack at him as well.