Brazil was coming into the World Championships with maybe the best front line at the party — Nene, Anderson Varejao and soon-to-be-Spur Tiago Splitter.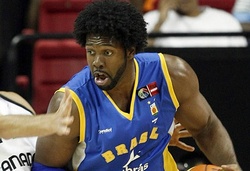 But now Nene will miss the tournament and Varejao continues to miss games leading up to the tournament.
Nene, of the Denver Nuggets, injured his leg in a warm up game for the tournament (Brazil beat France 58-52, according to the FIBA recap at the Web site for the tournament.
Brazil team doctor Dr Carlos Vicente Andreoli said: "During the game, Nenê felt pain in his right leg and was removed from the game.

"Clinically, he has a muscle strain in the soleus muscle, which requires him to stay still for five to 10 days. Given the time needed for recovery, we decided to remove him from the World (team)."
Nene should be 100 percent for the start of Nuggets training camp.
The Cleveland Cavalier's Varejao also sat out the game, having sprained his ankle last Tuesday in a warmup game against Spain. He is expected to play in the FIBA World Championships, which start next Saturday (Aug. 28 in Turkey).
Brazil is in the same Group B as the USA for the first round of the tournament.