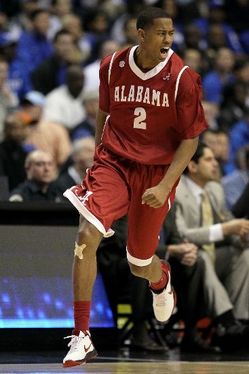 Mikhail Torrance went into this draft pick as an intriguing prospect — a 6'5″ point guard with some flash out of Alabama.
But he also had a known heart condition — an enlarged heart — that had never slowed him in college but gave NBA teams pause and he went undrafted. He signed with Maccabi Tel Aviv to play next season overseas.
In a tragic turn of events, Torrance collapsed on the court Friday and nearly died, he remains in the hospital in critical but stable condition, according to FanHouse.
Torrance was in training for the season at the IMG Academy in Bradenton, Florida when he collapsed during a workout. The silver lining of this is that if you are going to have health issues this was about the best place for it to happen, with multiple trainers and medical staff able to get there and help him almost instantly. Early reports said he was in an induced coma but was to be brought out of it so that they could assess where he is in terms of brain function.
His basketball future is certainly murky now, but the fact he has a future on the planet is what really matters. Our best wishes and prayers are with him and his family.