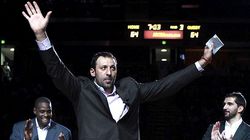 The basketball Hall of Fame thing gets confusing. Because just one week ago we had inductions into the Naismith Memorial Basketball Hall of Fame, which is the one we Americans tend to think of first. But there is also the FIBA Hall of Fame. And there is no NBA Hall of Fame, it just kind of tags along with the Naismith.
FIBA has just announced the class for its Hall of Fame, headlined by everyone's favorite chain smoking center Vlade Divac. We think of him as the crafty (read: flopping) center from the Lakers and Kings, but he was also someone who transformed the Serbian national team as a player.
Other names on the list you may recognize include Arvydas Sabonis, a truly great center who we only got to see in the United States at the end of his career (and he was still pretty good), and Cheryl Miller, one of the best women basketball players ever to walk the planet. Brazilian star Oscar Schmidt also is on the list.
All well deserved, whatever the criteria for your hall is.
They will be inducted at a ceremony Sept. 12 in Turkey, while the FIBA World Championships are taking place.