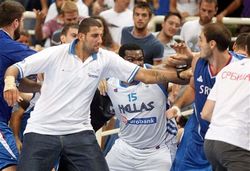 Nenad Krstic had quite the finals of the Acropolis tournament. There were points and rebounds and grabbing Greek forward Antonis Fotsis by the throat and throwing a chair at Greek center Sofoklis Schortsanitis.
It earned Krstic, the Oklahoma City center, a night in an Athens jail. He was released the next morning and went back to Serbia with his teammates. They will be moving on to Turkey in a few days for the FIBA World Championships.
We told you about the insane brawl yesterday, which had everything but Ron Artest running into the stands. Watch the video. The best part was Krstic coming to the defense of a teammate that Big Sofo was (Schortsanitis) was beating on.
Big Sofo was a big part of Greece beating the USA in the World Championships four years ago (14 points on 6 of 7 shooting, much against Dwight Howard). He is 6'10, 345 and his rights belong to the Clippers, he was at Summer League this year. He's a little to slow for the NBA game, but apparently he could have a future in MMA.
When he went after Krstic, well, Krstic wisely backed away. Then Krstic picked up a chair and threw it at Sofo, hitting a Greek Player who had not touched the court in the game. That earned him a night in a Greek jail.
Really, this is all just an excuse to tell you to go watch the video again.
This will not impact Krstic with the Thunder. Well, except for some ribbing from teammates. Good chance the video of him backing away from Sofo gets mixed into some team film sessions. But the NBA does not have power to suspend or take other actions from things that happen in international games. So there will be no NBA fines or mandated time off.
Both Greece and Serbia will be at the World Championships, but they are in different groups. If they meet, it will not be until the elimination rounds.