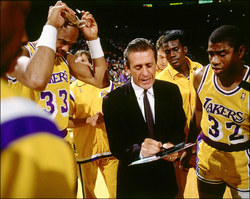 Pat Riley used to talk about wanting to play five players of all basically the same height — five players between 6'5″ and 6'9″ who could switch ever defensive pick, could all run the floor, who could all handle the ball a little, who could all cut to the basket from the wing, could all do things that would create matchup problems all over the court.
Those players could not have identical skills. Someone would have to be a playmaker, someone else a rebounding force. But the idea was potentially revolutionary — to heck with traditional positions, it's about skills. Riley could think this way, he had a position-bending player in Magic Johnson leading his team.
Welcome to 2010, where we dare you to define Dirk Nowitzki as a power forward. Or Andray Blatche as a center. Or Kevin Durant as a small forward. Or LeBron James and Kobe Bryant period.
All over the NBA blogshpere this summer there have been discussions of a "positional revolution" — an NBA without positions. That the versatility of today's players means we need to define NBA players in a way other than "he plays the five." It started with a great post from Drew Cannon at Basketball Prospectus, and has been followed up by some fascinating work, including by our own Rob Mahoney at his own blog Two Man Game.
Kobe Bryant was asked about this at Rucker Park last weekend and Dime Magazine has him backing the idea (via TrueHoop).
Speaking to the media during his World Basketball Festival appearance at Harlem's Rucker Park last weekend, Kobe said the influence of international players in the NBA has helped create a "hybrid" culture, where players of all sizes possess skills in all areas and can conceivably play any position on the floor.

"That's the one difference I'd like to see us kind of shift to," Kobe said.
There is truth to this. Particularly at what you might instead call the wing position, where guys like Durant and Kobe and LeBron live. The traditional definitions of a player no longer fit.
But at the same time, the NBA has seen a return in recent years to a traditional point guard more and more. Guys like Chris Paul, Deron Williams, Tony Parker, Bradon Jennings, Darren Collison and more have flourished with quickness in a league with no hand-checking on the perimeter.
Then inside, a traditional big man is still a force. Dwight Howard is a classic center and one of the best players in the league. The two teams that reached the finals last June had Andrew Bynum and Kendrick Perkins in the middle. That kind of physical force in paint still is a game changer.
But the game is evolving, and with it our understanding or it needs to evolve with it. And redefining classic positions — in the same way we need to redefine the classic box score — is part of that.