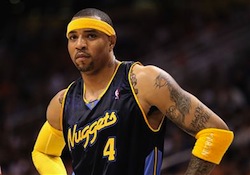 How long can the Denver Nuggets honestly claim to be on the brink of contention? There is some room for natural improvement — having George Karl back should help, more playing time for Ty Lawson would go a long way, etc. — but this team is essentially the same as it was last year. And last year's team the same as the season prior. There is little growth, little development, and little hope. The Nuggets are who the Nuggets were, and while that's fine, it isn't bringing home a trophy.
Carmelo Anthony apparently knows this, but don't think he's the only one. You can see it in the players' body language, in between the lines of their quotes, and sometimes, laid out rather explicitly. Take this Kenyon Martin bit, for instance, courtesy of Benjamin Hochman of the Denver Post:
Asked about Anthony's mind-set, Martin said the uncertainty surrounding the franchise has to be on his mind.

"Personally, my thinking is — I can't see where we got better this
summer. Al (Harrington, a free-agent signing) is cool, Al's my man, but
I can't see how we got better. You know, I'm going to be out and
(Andersen) is going to be out (to start the season), so did we get
better? I can't say that we did."
Kenyon's right. One mid-level exception later, all Denver has to show for their off-season is a 30 year-old shooting big with a knack for disappearing defensively. That's the bounty that's supposed to vault Denver into contention? That's the piece that's supposed to entice Carmelo Anthony to take off his shoes and stay awhile?
Not all of Danny Ferry's moves with the Cavaliers worked out, but he tried. He made all kinds of trades and signings to put a solid core around LeBron James. Some worked and some didn't, but that activity does mean something. The Nuggets aren't going anywhere. They're waiting on an impossibility, and Carmelo Anthony seems a bit tired of it.
Obviously the management situation in Denver is a bit more complex than it ever was in Cleveland, but the point goes well beyond this summer. Denver has needed to make moves for well over a year now, and couldn't pull the trigger. I'm not blaming anyone with the Nuggets organization for failing to pull a rabbit out of a hat, but something has to come out of that hat for Carmelo to change his mind, even if it's just a carrot.