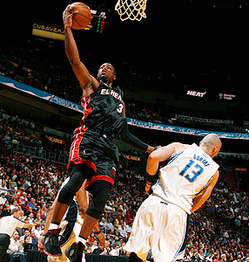 We get that in Cleveland there is a boiling, overflowing cauldron of hate for LeBron James that has spilled out into the streets and into song.
It could have been that way in Chicago — fans there thought for a while they had a real chance to land Dwyane Wade, to bring a favorite son back to the franchise and turn them into contenders. He met with the owners twice… then chose to stay in Miami. With those other two guys.
Do people in Chicago now hate Wade?
No, hate is too strong a word. But don't think they are showering him with love either.
Matt from the legendary Blog-a-Bull said on his twitter account that most Chicagoans think Wade was sandbagging with his hometown team, that he never really intended to leave Miami. And nobody likes somebody just playing with their emotions like that.
Wade made his interest sound genuine when he went on WSCR in Chicago this week to promote his charity work in the city — a big festival this weekend — and he came off as honest about being close to choosing Chicago. Wade was able to do that without sounding arrogant.
Now in 2010, I was this close to coming back, but I mean at the time it wasn't right.  It didn't work out.  I respect Chicago and of course I respect the organization.  This is an organization that I grew up loving and still have a heart for, not when we play the Bulls.  But it just didn't work out.  It was real close, my heart was in it, but the team that I have got in Miami and what I built there just overcame in the end….

Like I said, it was very close and I had to take my emotional side out of Chicago and not making an emotional decision, but at the end of the day I think those guys understood, first of all, they have got a great team.  They did an unbelievable job at getting the right team around them to get themselves in a position to compete for a championship real soon.
I don't doubt for a second that LeBron loves Akron and Cleveland, but the way things were handled helped fuel a fire that was going to be started however he announced his decision.
Wade handled things more smoothly. He also didn't leave Chicago, but he also comes off as far more sincere. Judge for yourself if he is or isn't.
But the greeting awaiting LeBron in Cleveland is far worse than what awaits Wade in Chicago.