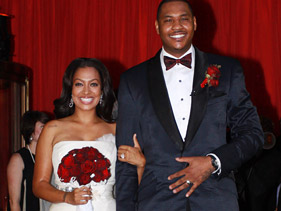 Possibility.
That is a vague word. There is a possibility that I will meet Jessica Alba and she will throw herself at me. A very, very, very slim possibility, but it is there. If that were to happen, there is a possibility that my wife would be insanely angry. A very, very high possibility, one that could involve heavy objects thrown my direction.
The point is, we're covering a lot of ground with the word possibility. So with that in mind, let's take a look at what Carmelo Anthony's new wife LaLa Vasquez told the New York Daily News.
"Us being in New York is a possibility," LaLa told the Daily News' Amanda Sidman. "It depends on 'Melo's career and where it takes him. There's a lot of talk about the Knicks, I mean, there's a lot of teams out there, he's a great player and I think collectively we just need to think about what makes sense for our family. But I would never say that being in New York is not an option, I'd be lying to you if I said that."
She's from Brooklyn, grew up a Knicks fan and is an actress who wants to live in a major media center. What do you expect her to say?
What can we read into this regarding Melo's future? Nothing, really, other than his new bride might like him to play for the Knicks. Or Nets, what with the move to Brooklyn in a couple years.
But the issue is far more complicated than just her wishes, and you can bet she knows that. As we said, until Denver hires a general manger and he sits down with Anthony and his agent, there is going to be no action. And after they do meet, there very likely will be no action for a while.
But we now know for sure that LaLa can make vague statements like the best of athletes.