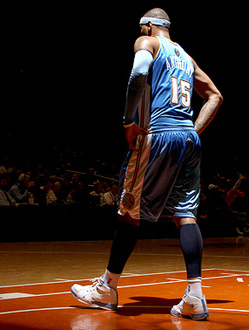 You want a good reason why the Denver Nuggets should be very deliberate in it's dealings with Carmelo Anthony? Woody Paige of the Denver Post put it clearly:
In the seven years Anthony has been in Denver they averaged 48 wins a season and never missed the playoffs. The eight years before he came they averaged 25 wins per season and never made the playoffs.
Anthony helped transform that franchise, you just don't move someone like that on an August speculation.
Denver may ultimately have no choice. If Anthony and his agent Leon Rose make it clear to the Nuggets they will opt out of the last year of his contract and move on at the end of this season, then Denver has to move him. It does not want to end up like Cleveland, getting nothing for its departed superstar.
But first, Denver needs to hire a general manager. Then that person needs to have a sit down with Anthony and Rose. Maybe Anthony has formally made up his mind and wants out. More likely, he is leaving his options open and trying to pressure Denver into improving the team.
We've said before, at some point Anthony needs to be fair to Denver — if he is going to leave, he has to tell them and give them a chance to trade him. Anthony wants an extend-and-trade anyway so he can get the money from the three-years, $65 million deal on the table. Whatever the max deal will be under the new CBA, it will be less.
Maybe it will come to that. Maybe not. But for Denver they need to take their time and do this right. Because this franchise has seen life without Anthony before and it's not pretty, it's not a place they want to return to.