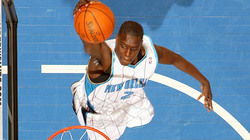 Darren Collison has gone from being the guy who backs up Chris Paul to the man expected to turn Indiana's fortunes around. No pressure.
But Collison sounded good with that leadership role in an interview on 1070 the Fan in Indianapolis.
I think we have a lot of good things to look forward to, but I want to make the playoffs this year. I don't want to wait. I don't want to do none of that. I don't want to talk about it, and I wanna work hard to make the playoffs this year. I think this city and this organization deserves it."
Collison at the helm of a running offense and Danny Granger full of Team USA confidence should make the Pacers a better team. Making the playoffs in the East will not be easy. There are six teams that are virtual locks: Heat, Celtics, Magic, Hawks, Bulls and Bucks. That leaves two spots for the Pacers, Knicks Nets, Sixers, Pistons, Bobcats and Wizards to fight over. May be a bit of a stretch, but a good goal for the Pacers.
That's not going to happen though unless Collison is recovered from his broken finger. He said that is coming along well.
"It's nothing broken. It's just fractured. I will be ready to go before training camp. It's just a slow process right now. It's not a real cast over it. It's just a cautionary thing over it that keeps me healing the right way."