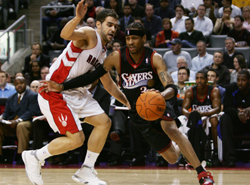 The market for Allen Iverson remains dry. Like Death Valley in June dry.
This morning the rumor on the Web was that the New Orleans Hornets and Orlando Magic were interested in Iverson. It didn't take long for officials from the Hornets to shoot that idea down.
This afternoon the Magic said they were not interested, according to Marc Stein of ESPN. This really is not a shock — the Magic already have Jameer Nelson as the starting point guard, with Jason Williams and Chris Duhon as backups. Why would they want another point guard? Plus, the Magic philosophy is to get the ball inside and have guards who can shoot the three. Iverson is a career 31 percent shooter from beyond the arc and last season just eight percent of his shots were from three.
On top of all that, the Magic are a team that is in the mix for a championship (or, if you don't buy that, they at least believe they are) so they are not going to bring in anybody they think might mess with the chemistry.
Remember that every time you read an anonymously sourced rumor, somebody told a reporter that with a motive. Nobody just gives away information. That information may or may not be accurate (or it may be half the story) but there is always a motive for leaking it.
In this case, the most obvious motive comes from the Iverson camp, who needs to drum up interest in signing Iverson. Right now, there is very little interest around the league, so you leak that Iverson's people talked to these teams, in hopes that other teams read it and jump in. Maybe Iverson's people called these teams, then leaked that they talked. I don't know who the source or sources were for the start of this rumor, but this scenario makes more sense to me than the teams leaking it then denying it.
Because what I keep hearing is that after last season in Memphis and Philadelphia, teams are reticent to invite Iverson in the door.