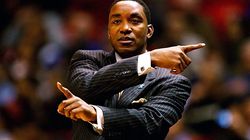 At the press conference announcing the New York Knicks had fulfilled all their summer basketball aspirations by signing Amar'e Stoudemire (what, you thought they had other goals?) everyone kissed Isiah Thomas' ring.
On the orders of owner James Dolan, team president Donnie Walsh and others thanked Thomas for his role in bringing Amar'e to New York.
Except he had nothing to do with it. At all. They never even spoke, as Stoudemire told Will Leitch (yes, that Will Leitch) New York Magazine in a Q&A:
Between the day free agency started and the day that you signed, did you talk to Isiah Thomas?
No. I didn't talk to him once.

Not once? He didn't influence you to come here?
I never talked with him once.
Classic Knicks.
If you think this will have any influence on whether James Dolan listens to Thomas in the future, you are sadly mistaken. Thomas is there to stay.
Thomas and Dolan remain friends, Thomas goes out to Dolan's place in the Hamptons. They hang out. Thomas is in the inner circle and Dolan wants to help his friends out.
Another great point was made by Harvey Araton in the New York Times: James Dolan likes to be the contrarian. He wants to prove to everyone that he was right and they were wrong. We all may see Thomas as a disaster for the organization, but Dolan picked him and he's going to prove you wrong. He's going to keep Thomas around, and someday Thomas is going to do something right (the law of averages dictate it). Then Dolan will rub it in your face.
For one thing, Thomas can recruit Carmelo Anthony to New York the same way he did Amare Stoudemire.