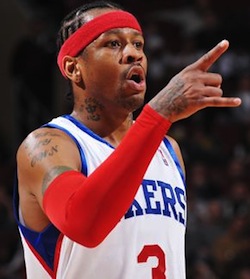 UPDATE 1:10 PM: Marc Stein of ESPN.com refuted part of the initial report via Twitter. Stein says he has "been assured Hornets have not/will not express interest in Iverson." No confirmation if the same is true for the Magic as of yet.
10:59 AM: According to Sam Amico of NBA.com, the New Orleans Hornets and Orlando Magic may be bringing in living icon, possible NBA blacklistee, and revered thespian Allen Iverson in for a free agent workout. Iverson's NBA future has spiraled into the unknown over the last two seasons, and while staring his own basketball mortality in the fase, AI seems to be doing his part to attempt to latch onto the underside of a roster.
Both New Orleans and Orlando would be, well, interesting landing spots. Say what you will about Iverson, but it's almost always interesting.
In New Orleans, Iverson could potentially slide in as Chris Paul's back-up at the point. Trading Darren Collison to the Indiana Pacers not only surrendered the team's top young talent, but also their only reserve PG. As of now, the team's ball-handling duties sans Paul would be designated to either Marco Belinelli or Marcus Thornton, neither of which is a particularly appealing option. Plugging Iverson into that role comes with its own problems, but the Hornets likely see Iverson as a point guard option rather than a shooting guard one. 
With the Magic, the opposite is true. Orlando already has Jameer Nelson, Chris Duhon, and Jason Williams at the point, so Iverson would likely play off the ball. In a matter of speaking, anyway; Iverson would likely still be the same high-usage, ball-dominating player he always has been, just slated as Orlando's shooting guard rather than a point guard.
Not that Orlando's wings are much more vacant. J.J. Redick, Vince Carter, Mickael Pietrus, and Quentin Richardson eat, sleep, live, play, and shoot on the perimeter for the Magic, leaving Iverson to scrape up minutes at the bottom of the barrel.
It's required that we all question Iverson's ability to function (mentally, mostly) in that role, and imperative that the Magic really wrestle with that same topic. When the Memphis Grizzlies (and later the Philadelphia 76ers) brought in Iverson prior to last season, there were some risks. But the Orlando Magic are one of the league's truly elite teams, and picking up Iverson just for the hell of it isn't something Orlando is really in a position to do. The Magic already have to contend with the Heat, so there's really no reason to play with fire.