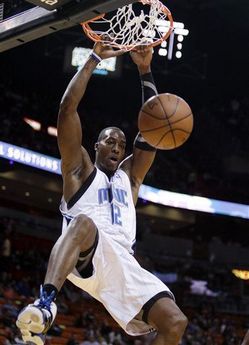 Can you consistently knock down free throws? If so, you stand a good chance of beating Dwight Howard in H-O-R-S-E.
And if you have the money, you can get to play him.
Howard is auctioning off the chance to play H-O-R-S-E against him to raise money for Usher's New Look Foundation (hat tip to CNBC's Darren Rovell). That organization trains youth to be the leaders of tomorrow, and in doing so increases their chances of graduating from high school and going on to college. It's a good cause, a good place to put your money.
Then after you do so, brush up on your free throws. And be sure to tell Howard no dunks while wearing a cape in this game.