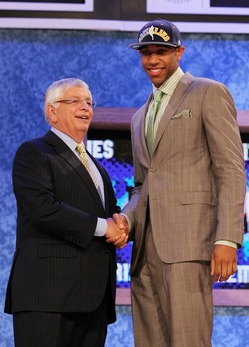 Maybe the definition of the NBA silly season has been the Xavier Henry contract situation.
To recap: Henry has not signed his contract. There is a rookie contract scale in place so the NBA doesn't look like the NFL with guys who never played a down holding out, Henry is slotted for just shy of $1.7 million. The Grizzlies can offer from 80 to 120 percent of that figure, but teams traditionally give the 120 percent. It is not uncommon for teams to sign a guy for 100 percent but let him make the extra 20 percent with incentives, but those are traditionally things like making a number of public appearances or other very obtainable goals.
Henry and his agent Arn Tellem have balked at what Memphis put up as the incentives and were very public about it. But we never knew what the incentives were until Tellem told the Associated Press.
Henry would have to be invited to be part of the rookie challenge at All-Star weekend, be named to one of the All-Rookie teams at the end of the season, or play at least 15 minutes in 70 games.
Henry was drafted No. 12 by the Grizzlies. There are about nine players invited to the All-Star Weekend challenge, and 10 on the end-of-year teams (voted on by coaches). In addition to the guys drafted this year, Blake Griffin and Tiago Splitter are considered rookies.
The goals set out by the Grizzlies are not wildly unrealistic. They will not be simple to reach either, which has been the tradition with rookies when giving them bonuses. The Grizzlies had never done performance bonuses in rookie deals before.
It's a debate you can make from either side, but for Memphis they are pissing off their new rookie and a powerful agent over $300,000. After giving out some huge contracts this summer. It just does not come off as a smart allocation of resources. Not wildly out of line, but not the smart play.