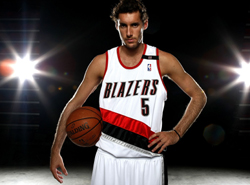 The way he and his agent are now acting, you'd swear Rudy Fernandez was being held hostage at gunpoint somewhere.
So on day 64 of the crisis here's the status: Fernandez wants to be traded, ideally to be bought out so he can return to Europe. Portland is listing to offers but has held its cards close to its vest so far.
So the same as the day before, and the day before that, and the day before that, and the day before that, and….
Yesterday Fernandez's agent said it was "possible" that Fernandez would hold out when camp started. Chris Sheridan of ESPN asked the league if it was Kosher with that.
NBA spokesman Tim Frank said the league was investigating Miller's and Fernandez's comments and whether they violated league rules that prohibit players from publicly requesting a trade.
At this point, Fernandez is going to get his wish to be traded, because there is no way he can go back to Portland. Too many bridges burned, including now with the fans.
But there is no reason for Portland GM Rich Cho to be in a rush to make a move. Hold out until it gets closer to camp, or maybe even after camp starts, to see if a better offer rolls in.
Sheridan reports that both the Bulls and Celtics have offered their first round picks next year for Fernandez, while the Knicks have offered Wilson Chandler. Those two picks would be near the end of the first round, and Wilson Chandler is Wilson Chandler. Cho isn't going to jump at any of that unless he has no other options, so he waits.
And all Fernandez and his agent can do is moan about it.