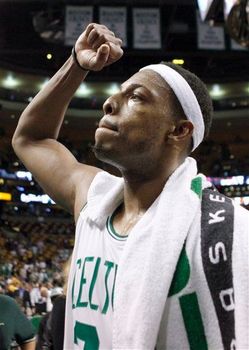 In the summer of 2007, the Boston Celtics put together three superstars to form a championship team, not completely different than Miami did this summer.
However Boston's stars were older and could see the end of their careers, they were past their physical primes but still were (and are) high caliber players. They were guys at a point where they were willing to give up points and personal glory for the wins.
In an interview with Comcast New England (via Celtics Blog), Pierce wonders if Miami's trio is willing to do that.
"You know it could come together right away for them, like it did when we brought our whole new team together, but it's all about the sacrifice, it's all about dropping the egos, and it's all about communication.

It's going to be hard, you know why? I like to call this barbershop talk, because you go to a barbershop and all you talk about is basketball and sports and people are always saying, 'What if Kevin, Ray, and Paul had gotten together when they were younger? They'd probably have four or five championships. But then you don't take into (account) the fact that we were all in our primes, still trying to establish ourselves at the same time, which is what you're seeing with Miami now. All of these guys are in their prime. Now, how much of your prime are you going to sacrifice? LeBron right now is an MVP-caliber player. Wade is also, too. And also Chris Bosh. Now, can these guys say for the rest of their careers it's not about winning the MVP? It's about sacrificing the individual numbers for a greater good, and that's winning a championship. I think the great players make the adjustment. If it doesn't work out (the first year), I think as time goes, they'll figure it out."
The Heat players have made sacrifices already — each took less money to play together. But that is just the first of a lot of sacrifices they will learn they have to make. How fast they learn will determine when the titles come.