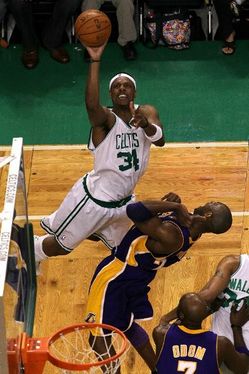 If you talk to Mychal Thompson — the former No. 1 overall pick who may be best known for being part of the back-to-back champion Showtime Lakers — he speaks glowingly about his time playing in Greece.
A lot of players do, they like the overseas experience.
Paul Pierce wants that experience and told Comcast New England (via CelticBlog) that's how he wants to end his career.
"As far as retiring from the NBA, I think I will be done after this contract because eventually I want to go overseas and play and live for a couple of years. That's why this is a big contract for me, knowing I'm going to retire a Boston Celtic. I want to go to either Italy or Greece for a year. I think I want to be able to bring my family over to just kind of share a different experience overseas for a couple of years, before I settle into retirement."
Pierce signed a deal this summer to play three more years as a Celtic, with an option for a fourth. That means he would be age 36 or 37 when he went to play in Greece or Italy. His game might not be the same then, but he'd be a draw and could still knock down shots.
Plus, that would be fun to follow. Pierce loose in the Greek islands… yea, that would be fun.