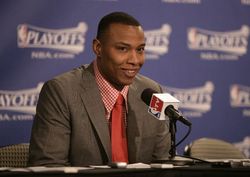 The NBA Cares. It does, but the league has other motives, as well.
The NBA hypes up its players doing community work — talking at schools, visiting children in the hospital — in part because it's good for the league's image. It's something to try and counter the stories of arrests and crimes that also follow some NBA players. There's a reason you see it every nationally televised NBA game.
But that's just the hype. For a lot of players, giving back is not something they do just as a tax write off.
Caron Butler this summer did his annual "Bike Brigade" in his hometown of Racine, Wisconsin, where he gave away hundreds of bicycles to area youth. He hosts annual back-to-school drives like he did in Washington DC last year, he has hosted numerous charity basketball games, he went to Johannesburg, South Africa, to conduct free basketball clinics. I could probably fill up the Internet with Butler's charity endeavors.
He's quick to tell you that he does all this because he wants to, because he wants to give back to the community. He's sincere and he cares. He isn't organizing and attending events for  the publicity or to save some money come April 15.
And he said there are a lot of players out there like him.
"I think there are other guys out there doing it," Butler told PBT last week. "This is something I've been doing since day one, since I got into the league. I probably just had a camera crew out after four or five years of doing it… after a while people just started paying more attention to what I was doing and understand that what I did was from my heart and I was passionate about it. That wasn't just a once a year thing, this was something I was committed to year in and year out.
"And I do believe there are other guys out there like that."
Dwyane Wade said something similar to Matt Moore writing at CBSSoports Facts & Rumors blog. Wade was at the Alonzo Mourning Summer Groove event, then there is this weekend's Wade's World Charity Weekend in Chicago.
Yet right now, Wade is painted as a villain by many, part of the hated Heat. (Although Wade may be the least hated of the big three.) The focus is on the negative, not the positive.
"Yeah, I don't think the world focuses on the positive things enough. I understand being the villain is what people like. People play to that. They want to know about the villain. They don't want to know about the good. They say they do, but statistics show that they don't. The thing is, I don't do these things for recognition, being a good teammate, being a positive member of the community. I do them because those things make me whole and complete. A lot of that negativity? It's just speculation. You've gotta deal with it and move on. I've learned that not everyone's going to be 100% DWade. Hopefully the ones that do get to know me more and the things that I do and that's what they make their opinions from, from who I am. Everything else is just speculation."
I can promise of the coming months you are going to read on this blog about more NBA players getting arrested because they did something stupid. Don't know who or when, but know it will happen.
And for every one of those, there are a handful more NBA players doing something good in their community that will go unnoticed. In part because they are doing it for the right reasons, they are not calling a press conference for it. We can promise you that, too.