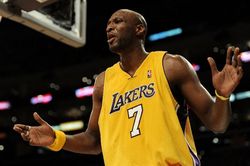 Le odor de Odom.
When you're a hot celebrity couple and you attach your name to something and people will buy it. Regardless. For example, Khloe Kardashian and Lamar Odom are teaming up on a unisex fragrance.
I couldn't make this stuff up. Kardashian confirmed it to the New York Daily News (via the fashionista Trey Kerby at Ball Don't Lie).
Lighthouse Beauty, which created Kim's perfume, has confirmed that it also will be developing the fragrance for Khloe and her NBA champion hubby.

The new scent may be named "Unbreakable," Khloe Kardashian told WWD, though she added, "Baby, I dunno, we're still working on it."
Crushing your hopes, you will not be able to splash yourself with your gift of "Unbreakable" (or whatever M. Night Shyamalan movie they name the fragrance after) on Christmas then watch the Lakers take on Heat — the fragrance will not hit the shelves until next November. So you will have it in time for that Lakers/Heat finals that David Stern will make sure happens.