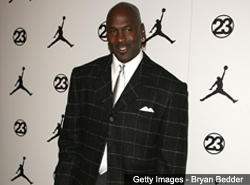 Where is Horatio Caine when you need him?
The crime lab in Raleigh, North Carolina, mishandled evidence in more than 200 cases in a 16-year span, according to an independent report obtained by the Associated Press. That means a lot of cases are about to be re-opened.
One of those may well be Daniel Andre Green, the man convicted of killing Michael Jordan's father.
Green admitted this much at trial: he helped dispose of the elder Jordan's body and drove his car, but the lawyers denied that Green killed him. It was co-defendant Larry Demery that said Green had pulled the trigger at point blank range.
Green's lawyers questioned at trial why there was so little blood in the car if the shot had been as close as Demery claimed. The mishandling of the blood evidence in this case could open it up again. State prosecutors are looking to the cases, and Green's current attorney is about to file an appeal based on this.
One feels for Jordan, the current owner of the Charlotte Bobcats, in all this. Remember it was a couple months after the death of his father that Jordan retired from the NBA and went to play minor league baseball. It took an emotional toll on him, and now it may come back up.