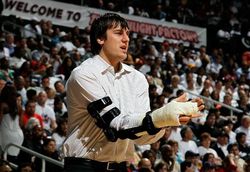 When you think back to just how gruesome Andrew Bogut's elbow injury was, the fact that rehab has had setbacks and he could be out longer than he hoped should be a surprise.
Bogut did a television interview in his native Australia (which was transcribed over at the Real GM forums and was found by CBSSports.com's Facts and Rumors blog) in which he said there have been issues and he could miss the start of the season.
"It's getting there, frustrating. Just in Europe, doing physio twice a day. Doing physio every day since being back and you don't see immediate results, with my elbow at least. It's frustrating.

"I'm optimistic that I should be ready for the season but you never know with these things because of the nerve damage and so on, it's on its own course.

"[It's my decision] I'm one of those guys who will play through injury but if I'm not 100% for the season to start, there is no sense going into an NBA season at 85% 'cause we're playing up to May.

"I'm still not even shooting the basketball. I shot the ball a little bit in Europe and got a bunch of fluid down in my elbow so I had to stop shooting. So at the moment I'm just lifting weights and conditioning so we'll see what happens."
It's not ideal, but the Bucks don't have a brutal schedule to start the season (only 4 of first 10 made the playoffs last season, the only real power they face is Boston once). If he is out, the Bucks can be fine for a while. Just signed free agent Drew Gooden will get some more run, and rookie Larry Sanders may get thrown into the fire a little faster, but he has game.
It may be frustrating, but Bogut needs to get it right and not rush back for games in November or December. With him playing well, the Bucks are a quality team, on the second tier in the East. A team nobody wants to see in the first round of the playoffs. He needs to get back but he needs to get back right.