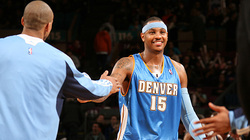 When does free agency start?
By the NBA calendar, it's July 1.
By the collective-bargaining agreement, it generally is a week later, after the insipid waiting period that's known as the signing moratorium.
But have the lessons of LeBron and Bosh, as well as the ongoing saga of Carmelo, showed that free agency actually begins some time closer to Sept. 1 or Oct. 1?
Much of the backlash directed toward LeBron James and Chris Bosh (beyond a certain lack of decorum), is over how they never truly showed their hand until it was too late for the Cavaliers or Raptors to get something in return.
At last season's trading deadline there was a confidence in Cleveland that James would return, a hope in Toronto that Bosh would remain.
So now Carmelo Anthony, through typical NBA backchannels, the same ones that broadcast Chris Paul's unease in New Orleans earlier this summer, makes it known that he might not necessarily view himself as having a future in Denver.
As a result, as unpalatable as it might be, at least the Nuggets have the opportunity to deal for something in return.
Perhaps sooner, such as before the start of camp or the regular season.
Perhaps later, such as after this summer's free-agent acquisitions can be dealt on Dec. 15 or closer to the Feb. 24 trading deadline.
While the Cavaliers said they never would trade LeBron, would that have been true if they knew then, felt then, what they know now, feel now?
As for the Raptors? Hindsight shows than some sort of deadline deal would have been prudent, even if it meant a somewhat smaller return from a team looking to rent an All-Star, Major League Baseball style.
Perhaps the NBA needs something like the NCAA has in advance of national signing day, some sort of early commitment period, in this case where impending free agents can make clear a desire to depart, without penalty from David Stern, knowing full well it could create an ongoing unease in their home markets.
At least it would be honest.
If Anthony leaves the Nuggets in free agency for nothing in return, the Nuggets become the Cavaliers, the Raptors. They become irrelevant.
But if Denver at least gets on the same page with Carmelo, a future could be salvaged.
Heck, on Dec. 15 Bosh becomes available for a trade, albeit with a 15-percent trade kicker (hypothetical scenario, only, people).
The Nuggets could do far worse.
And then the brothers Van Gundy can tell us how many games Wade, LeBron and 'Melo could win.
Ira Winderman writes regularly for NBCSports.com and covers the Heat and the NBA for the South Florida Sun-Sentinel.