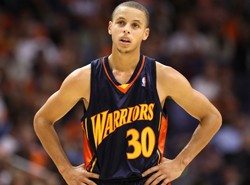 And somewhere in Maui, for a reason unbeknownst to him, Don Nelson felt a chill go up his spine….
In the final minutes of a Team USA practice scrimmage Wednesday, Stephen Curry went down with a twisted ankle, according to John Schuhman of NBA.com.
The team is calling it mild and he is day-to-day. Team USA has games this weekend as warm-ups for the World Championships in Turkey.
The only problem with this for Curry is that one guard still needs to be cut from the 13-man roster — him, Eric Gordon or Russell Westbrook. Curry has seemed the most safe, but any injury when you are fighting for a job is hard. Still looks like Westbrook might be the guy who goes.