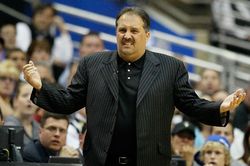 No doubt the Heat are going to be good. Very good. But expectations some comparisons and expectations are getting a little ridiculous.
Stan Van Gundy is happy to feed the mania, as he did with Dan LeBatard on 790 the Ticket in Miami:
"If I look at what the Bulls did winning 72 games and I look at the Heat roster, I am going to tell you that the Heat roster is better than any roster that Michael Jordan played with the Bulls. I don't think that people predicting them breaking the win total and being in the 70s and the whole thing, I don't think those are expectations that are out of line based on their roster… Dwyane Wade is certainly, in my opinion anyway, as good as he was, is better than Scottie Pippen. Chris Bosh is better than Toni Kukoc. Mike Miller is every bit as good a shooter as (John) Paxson or (Steve) Kerr or anybody they put there. Plus, he's 6′8″. If you start going down the list, I don't think there is any question that the roster the Heat have is as talented a roster if not more so as any roster there has ever been in the NBA."
Van Gundy is a pretty straight shooter, he says what he thinks.
But he also gets the game. The Heat are a top rival for Van Gundy's Magic in the East and one way to knock them down a peg is to set the expectations for them so unrealistically high that even a very good season is perceived as a failure. Saying they will win 72 their first season together is way too high a bar (remember how long those Bulls had been together when they did it, and it was the second year after a diluting league expansion).
This is one way to start injecting some doubt into a team — have everyone around them saying they are not as good as they should be.
It may not work, but it's a smart strategy for Van Gundy to try.