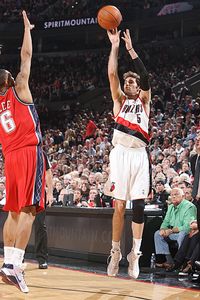 UPDATE 9:25 pm: New Trail Blazers General Manager Rich Cho wasn't moved by all this, according to a tweet from Marc Spears at Yahoo.
POR GM Rich Cho
tells Y! he has no plans of releasing Fernandez out of contract and he
will "make the best decision for the organization."
6:40 pm: Rudy Fernandez wants to be traded. He likes the idea of playing in Europe.
In other breaking news, the sun rose in the east this morning, the Dali Lama is non-violent, bears do their thing in the woods, and boiled okra is the worst food on the planet.
There is nothing remotely new about Fernandez being unhappy in Portland or wanting to be traded. Or be allowed to go play in Europe. Or that he remains stuck in Portland as they have his contract are not giving it up easily.
The only thing new is that when Hoopshype.com called Fernandez's agent Andy Miller he upped the rhetoric.
"Portland and I have had numerous discussions, almost daily, on the situation," Andy Miller told HoopsHype.com. "I think this situation is headed for a collision course because Rudy's perspective on where he wants to be and what he wants to do and how he wants to accomplish it is on the opposite of the spectrum from where Portland sees the situation.

"I don't think (the relationship) is reparable."
Collision course? What kind of collision could there really be?
When asked if he would go as far as to advice Fernandez not to show up for training camp, Miller answered: "Possibly."
That's not much of a collision. What does Portland lose? The services of a role player they now don't have to pay. What does Fernandez lose? His entire paycheck and time for the limited number of years he can make money playing basketball.
Miller goes on to overstate Fernandez's value (saying he was one of the top players in the NBA) and up the rhetoric ante like agents are wont to do.
That doesn't move Portland the front office at all. It does make Fernandez sound like a whiner to the people of Portland, who are turning on him.