L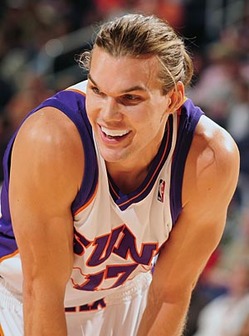 ouis Amundson was the most understated of Phoenix's tremendously successful reserve unit last season. Leandro Barbosa was the established veteran scorer, and could catch lightning in a bottle. Goran Dragic was the young up-and-comer, officially hosting his coming out party on the Spurs' home court during the first round of the playoffs. Channing Frye was the big surprise, knocking down threes at a ridiculous clip before going a bit cold in the post-season. Jared Dudley endeared himself to anyone who flipped on a Suns' game wish his shooting, hustle, and personality.
Somewhere in there was Amundson, the rebounding and defensive specialist that allowed the whole thing to work. He guarded opposing bigs, rebounded like hell (compensating for having Channing Frye as his frontcourt running mate), and did the little things that allowed the Suns to rest Amar'e Stoudemire and sit Jarron Collins. That was pretty huge, when you really think about it.
Yet with Hedo Turkoglu likely to fill in minutes at the 4, newcomer Hakim Warrick slated to play there as well, and second round pick Gani Lawal signed and delivered, there's not really a place for Amundson anymore. He could play some center for them, but Phoenix seems very much content to use Lawal in a similar capacity, and he comes with a far cheaper price tag.
The Suns probably made the right move. Amundson is the kind of player who is useful but ultimately expendable. There are other rebounders, other hustle guys, and other big bodies out there who can fill in Lou's minutes. That's not to say that Amundson doesn't have a place in this league — he's very much a legit NBA player — but can you really blame Phoenix for signing a younger, bigger player with decent potential that can run the court and rebound instead of Lou? Especially when that player comes at a sub-million salary?
Amundson never wanted to leave Phoenix. But the Suns had other options and took them, which is just the way it goes sometimes.
Now Amundson, who has been a free agent for far too long, will be forced to sign elsewhere. For an idea of which teams might be interested, we turn to Marc Stein of ESPN.com:
It appears, though, that Amundson's wait might finally be ending.
Sources close to the situation say that the 6-foot-9, 225-pounder is
inching closer to a decision, with at least three teams known to be
actively in pursuit – Golden State, New Orleans and Indiana. One source
says an unidentified fourth team remains in the mix.

Another source told ESPN.com that the Hornets and Warriors are
making the hardest push, but the Pacers have not been shy about their
need for another big man after using Troy Murphy's expiring contract
last week to help facilitate the four-team traded that netted the point
guard Indy has long coveted in Darren Collison.
Indiana would probably be the best opportunity for Amundson to score some minutes, even if Golden State offers an intriguing stylistic fit. That said, I'd be curious to see how Amundson would fit in with what already seems to be a pretty crowded Golden State frontcourt (Brandan Wright, Andris Biedrins, Ekpe Udoh — though he'll miss part of the season due to injury, Vladimir Radmanovic, David Lee, and Dan Gadzuric will all be fighting for minutes for the Dubs).
New Orleans is a bit of a wild card. If Chris Paul is locked in, Amundson could definitely help out the Hornets by filling in minutes at the 4 and the 5. However, Should New Orleans look to rebuild, Lou would be stuck behind David West and Emeka Okafor (and maybe even Craig Brackins or Darius Songaila, depending on NOLA's depth chart) on a team going nowhere. Choose carefully, Lou.