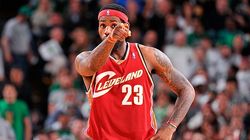 There are enough conspiracy theories around LeBron's elbow that I'm convinced it was injured by the man in the grassy knoll.
While LeBron doubters have called it imagined, in a much-overlooked part of the GQ interview James said the elbow still bothered him (the interviews took place in July).
"I go out there and get a hard workout, and I know the elbow is not 100 percent healthy… It feels great, but I'm not going to wait until it hurts to start icing it."
I'm not on board with the Oliver Stone fans saying it was all a ruse to help facilitate leaving Cleveland for Miami. It looked to me like he was genuinely hurting. That whatever exactly happened it changed parts of his game as he tried to compensate.
But we won't know for sure until we hear from LeBron's elbow itself.