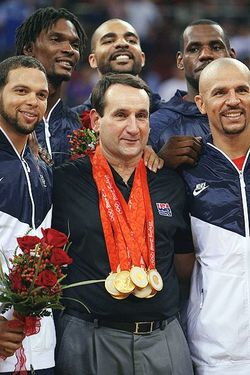 It's not a coincidence that the same franchises seem to win year after year in basketball (both NBA and college).
Talent is part of that, true. But even as talent changes over year after year, decade after decade, certain teams rise to the top. They have a culture of winning, something that runs from the team owner to the kid wiping the sweat off the floor during the game.
Coach Mike Krzyzewski told the Associated Press he is trying to build that at USA Basketball, which is why this summer with this team is important.
"We're not going to get the same guys over and over, like the guys who were on the Olympic team – and we think a lot of those guys will come back for London, a number of them but not all of them. So we're trying to develop a culture," Krzyzewski said. "A lot of these guys have played on our select teams, or in our youth program, but it's not the veteran team like we had in Beijing."
The days when the USA could win any international event it entered based on talent alone are gone. Spain, Argentina and other nations have caught up, if not in the depth of talent then in the top players needed to fill out a national team.
To combat that, Team USA needs that culture. Part of it came with the "Redeem Team" of the last Olympics — a team that made playing for you country cool again. The top players are doing it. Right now, the top young players are doing it.
Now Krzyzewski and crew need to create a culture that keeps that talent coming back. Winning would help that. Winning is always fun. Gold medals are fun things to bring home. But the young American team is going to have to really earn that this time around.