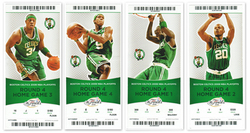 Variable ticket pricing is coming to a city near you. It will. By the end of this decade it will be thought of as common for every major sports franchise in America.
What is it? Simply put, it will cost more to see in-demand teams like the Lakers or Heat on a weekend night than it will be to see less high profile squads like the Clippers in the middle of the week. Simple supply and demand economics.
The Hornets plans are discussed in the Times-Picayune (via TrueHoop):
Yet-to-be-determined prices will be assigned to games based on value and demand, influenced by factors such as an opponent's quality and the day of the week the game is played. Each game will fall into one of five pricing categories: marquee, premium, classic, value and preseason.

"The concept is recognizing the fact that not all games are created equal," [vice president of marketing Matt] Biggers said. "We play games on all different days of the week, against all different kinds of opponents during different times of the year. There are games where the demand isn't as high as other games.

"For us, it's about pricing more in line with what the demand is. For games that have high demand, we can price those appropriately."
The NFL's San Francisco 49ers have been doing this for a season. And you have been doing this too — through StubHub (and similar companies). Let the market set the price. That is the raw essence of ticket supply and demand, and season ticket holders have turned to StubHub (now with official ties to many teams) to rake it in for years, making a nice profit by selling some premiere game seats.
Now the teams want a piece of that action. Lest you think this wasn't about the money. Because it is always about the money.
You may not like this, but you better get used to it. This kind of ticket pricing is the next wave.