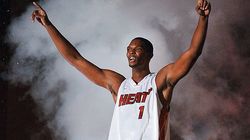 It's trendy to hate the Heat, what with their ripping the hearts out of Cleveland to form the Superfriends. Trust me, plenty of people around the league have the hate, some going so far as to say the only thing that could ever get them to root for the Lakers in the finals would be the Heat.
And the Heat have embraced it all with a love-me-or-hate-me attitude — they've got Scarface rip-off T-Shirts, their entire staff walks into Summer League in Vegas wearing black. You almost expect the Darth Vader theme to follow them around.
And Chris Bosh is good with that. Hate away, he told Chris Mannix of Sports Illustrated.
"It's a healthy hate," said Bosh. "When the Lakers came to town, I hated the Lakers. It's what you need as motivation to beat these guys. We know we're going to get a team's best every single night. We know we're going to get the crowds best every single night. We have a big X on our back. People are saying our team is not good for basketball. We're going to hear everything. It's OK. It's going to happen. We just have to win and keep on moving."