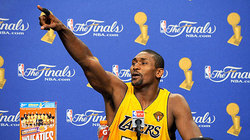 No Laker has enjoyed the spoils of being a champion this summer like Ron Artest.
Then again, no Laker earned the right to party with a great Game 7 of the finals like Ron Artest.
And party Ron Artest has, as he said in an interview with FanHouse.
It's been fun — a little too much fun. I partied hard as hell. I was gone. But the good thing is that I worked out (during that time). Last year at this time I was 270-something (pounds), and this year I'm 255, 258. I'm totally focused. Like this (cranberry and vodka drink in his hand) is probably my second drink in like a month, and usually in the summertime I get (his drinking) in. I get it in every night. But I'm going to come in at about 245, 240 this year, and get back to that Defensive Player of the Year weight.
Artest has matured. He's not mature like Phil Jackson, but he has matured. Maybe it's because he has gotten older, maybe it's hanging around the laser focus of Kobe Bryant, maybe it's the voice of Jackson like an angel on his shoulder telling him not to take that extra drink. Telling him to hit the gym hungover or not. Who knows? Maybe some combination of all three.
But Artest sounds like a lot of veteran players — they get a taste of the winning and they like it. They want more. (Although motivation was never the question with Ron-Ron, it was maturity, so please see the previous paragraph.) And despite the South Beach party, the Lakers are still the team everyone has to beat, the team with the most talent. The team that, if healthy, will give Miami matchup fits.
Artest is already putting in the work. And that could be trouble for the rest of the league. And bad news for bartenders at his favorite haunts.