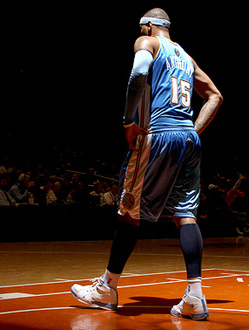 We said this morning that Carmelo Anthony needs to make his intentions clear to Denver — sign the extension or tell them to trade him.
But maybe he has, as Ken Berger suggests at CBSSports today. If he has, things are still not going to move quickly because right now Denver is without a general manager. Whoever gets hired (rumor is the Suns' David Griffin) that person is going to do what Dell Demps did in New Orleans and have a sit down with his star before he makes any moves.
So don't expect any action soon. But there may be action. Remember that none of this can happen through the front door — if Anthony demanded a trade publicly the wrath of David Stern would rain down on him in a massive fine. Massive.
Part one of the question is does he want to leave, part to is where does he go? It's been the conventional wisdom that if Anthony wants out of Denver, he would be headed to New York.
Not true Berger as reported on the Truth and Rumors blog at CBSSports:
Anthony's hesitation to sign a three-year, $65 million extension with the Nuggets goes beyond his desire to enjoy the major-market exposure and pressure that LeBron James and Dwyane Wade turned down this summer. Melo would accept other destinations as well, and the Magic are believed to be at the top of his list along with the Knicks, according to a person familiar with his strategy.

The exit strategy began taking shape last week, while Anthony was in New York for Nike's World Basketball Festival. It was then, according to the source, that Nuggets management was advised to begin exploring trade possibilities for Anthony to avoid losing him as a free agent and getting nothing in return.
Anthony's agent — Leon Rose, who is also LeBron James' agent — could tell the Denver to make a move. But as we said, Denver is not going to do anything until they get a general manager.
If Denver does start seriously looking at trades it will entertain offers for Anthony's services from a number of teams. Anthony has leverage because this would need to be an extend-and-trade, but the Nuggets are not going to send him to a destination just because he wants to go there. Denver is looking for value. A number of teams could jump in the fray.
Alan Hahn of Newsday says the Knicks have reached out, Denver knows they are interested, but there have been no recent talks. He also speculates that any trade would likely send Danilo Gallinari to Denver. Eddy Curry's massive contract — and Eddy Curry, we suppose — also would go to Denver, along with picks or minor players.
While the rumors have picked up steam the last 48 hours, the real action has not. And until Denver gets a new GM and he sits down with Carmelo for a heart-to-heart, don't expect much action.