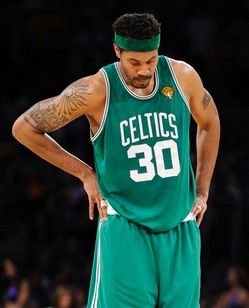 Rasheed Wallace is going to be like Elvis this year. Jim Morrison. Tupac.
He will not be dead and there will be sightings of him — and the return of his career — all over the place. Particularly Boston, as Sheed will still be living in the city.
The first one of those came from Paul Pierce, who had Sheed at his youth camp, as reported by Sherrod Blakely at Comcast New England:
You can count Pierce among those who thinks a Wallace return to the Celtics will happen sometime prior to the playoffs, despite Wallace insisting that he's done playing.

"I told him, 'Go ahead, do all you need to do,' " Pierce said. " 'Take the kids everywhere. We'll see you in February.' "
Maybe Pierce was joking, but Sheed was serious. From that same article.
When asked by CSNNE.com about whether his NBA career was indeed wrapped up, Wallace responded, "Like Christmas."
Don't you unwrap presents on Christmas? So…