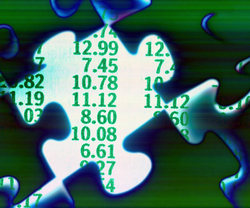 This makes a 1,000 piece puzzle of a polar bear on a snowy landscape look like child's play.
Matt Winick makes the NBA schedule. Him and a computer. No team of guys slaving over diagrams and flipping through reems of information. Well, there are reems of information, but just one guy.
Kevin Arnovitz did a fascinating intervew with Winick over at TrueHoop. What follws are a few of the best answers. But if you think Will Shortz is cool, you should follow the link and read the entire interview.
You start by getting dates from the various arenas. There's a certain number of dates that each arena must provide. That's your starting point.

What's your next building block from that?

The games against the other conference, because they normally involve long road trips. You look for gaps in the home schedule when the building is not available and you try to schedule the longer road trips during that time when the team can't play at home. So if a team from the east is going to be out of their building for 8-10 days, you look to send them west….

Nothing is easy. The computer program is great. It puts everything together in an orderly way and makes it as easy as possible, but there are no easy schedules….

You send a team to Golden State on a trip, yet they can't go to Sacramento. You have to send them on another trip when they go to Sacramento and people say, "Why?" Well, the two times they were going west, Golden State wasn't available one time and Sacramento wasn't available the other. You'd like to schedule orderly trips as much as you can, but if the buildings aren't available, they aren't available. In Los Angeles, this coming season, the Lakers have four games at home in February and the Clippers have two. Well, the Grammies are in Staples Center for 10 days followed by a week when the building is unavailable because of the NBA All-Star Game. If teams can't play at home, they have to play on the road.