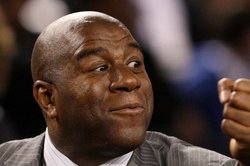 Magic Johnson's name has come up in Golden State when that team was for sale. It has come up in connection with Detroit and the sale of the Pistons.
And it is going to come up again, because Magic wants to run an NBA franchise, he told Scott Howard-Cooper of NBA.com. And he knows that means a split with the Lakers.
"I'll still be a Laker forever," Johnson said. "If there's a chance for me to go run a team, if I felt that's what I wanted to do, would I take it? Yeah, if the right situation came. I know one day that's gonna probably happen. I love being with Dr. Buss and the Buss family and working with them, but I know one day something is going to happen. I can definitely see me not being with the Lakers, yeah."
Even Jerry Buss thinks it could happen — and Buss thinks of Magic more like a son than a player.
"I think he would always have a temptation to run the show," Jerry Buss said. "He's a pretty aggressive guy. On the other hand, he loves the Lakers. It's such a hard decision for him. I don't know which way that's going to go."
Magic, frankly, would be a good guy to run a franchise. He has a proven business acumen. He knows the game. So few owners have an understanding of both sides of the equation, but Magic would.
Still, it is somewhat unsettling to think of him tied to any franchise but the Lakers. Where he was drafted as a player and is a partial owner now (Magic wants to run a franchise, and in LA that falls to the Buss family). How does Magic feel about that?
"Life takes many turns," he said.