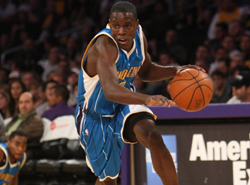 Indiana finally got the point guard they needed, and it took just six days for him to get injured. Somebody just can't catch a break from the basketball gods.
Darren Collison has fractured a finger on his shooting hand, according to Mike Wells of the Indianapolis Star.
The good news is this is something that should be fully healed come training camp. We might watch to see if turnovers are up early because his handle isn't all the way back. Or if he struggles to find his shot a little as he recovers.
But come the start of the season, Collison should be good to go.
Not good news, but not the worst news the Pacers have had about a guard in the last couple days.