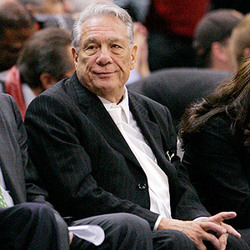 It's easy to go for the easy joke when talking about Donald Sterling, owner of the Clippers. Too easy. The snark almost writes itself. And we do love our snark in these parts.
But what's genuinely amazing about interviews with him is how disconnected from the reality on the ground he seems to be. His lack of understanding of his reputation and the team's reputation. How that influences free agents and others.
Sterling was at the Clippers unveiling of their new uniforms and got needled by Los Angeles Times sportswriter and curmudgeon T.J. Simers, who loves to have fun with those who don't get it.
Like how they went after LeBron and ended up with Randy Foye and Ryan Gomes.
Or, as Sterling put it, "If I really called the shots we wouldn't have signed Gomes and what's the other guy's name?

You know, they told me if we built a new practice facility we'd attract all the top players in the game," Sterling adds. "I guess I should have doubled the size of this place."
Sterling believes the Clippers should have had a better shot at LeBron and doesn't really understand why he focused elsewhere. He brushes aside the idea that LeBron was impacted by the fact Sterling has been taken to court by former coach Mike Dunleavey, who is trying to collect money on his guaranteed contract. (Former general manager Elgin Baylor also in suing the Clippers.) Sterling said Dunleavy quit, which is different than the reality the rest of us live in where Sterling fired him.
The jokes are easy, but in reality it is all just sad. This is a franchise that has so much potential.  It has potential on the court too, but you know even if everyone stays healthy there will be something to sabotage that success soon enough. And Sterling will just not understand why.