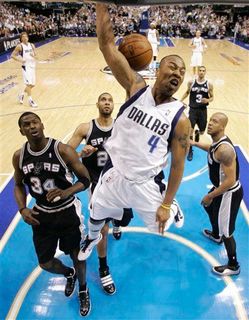 Variations of this theme seem to play out wherever Caron Butler goes.
Last season heading into the playoffs, the Dallas Mavericks looked like the team ready to test the Lakers. Dallas was the two seed, they had won 7 of 10 including five in a row. There was a quiet, veteran confidence around the team.
Then the San Antonio Spurs bounced them in the first round.
Butler doesn't like it. He was on teams that were fun to watch with the Heat, the Lakers and there were a lot of "what could have beens" in Washington. Dallas felt different, but it wasn't. He said it is time for a change.
"You've got the war wounds," Butler said from his Washington D.C. home last week. "You've been through the trying times off the court not achieving your goal. You've been working hard all summer long then to fall short, that hurts. It's time to feel the other side of that and let somebody else feel this."
That's why Butler has been in the gym and riding his bike, why he's heading up to Tim Grover's in Chicago to work out with the guru for a month. He wants the taste of champagne in his mouth through next summer.
And he believes Dallas is close. They just need to get more stops.
"Controlling the glass, focusing on defense," need to be the focus, Butler said. "Because we can score with the best of them. We have a great player, we have a Hall of Fame point guard and whole bunch of other guys that want to get it done and are willing to sacrifice whatever to win. We've just got to put it all together and we will."
Having centers like Brendan Haywood and bringing in Tyson Chandler helps with that, he added.
"Tyson is a guy who brings a lot of energy and athleticism to our front line. I'm looking forward to playing along side of him and pushing toward the ultimate goal of winning a championship," Butler said.
Dallas, with their efficient offense, can be fun to watch — but no team Butler was on was probably more fun to watch than the Miami Heat in 2003. That squad had Butler, Lamar Odom, Eddie Jones, Brian Grant at his peak, a young Dwyane Wade and was just bursting with promise.
"It was fun, it was real fun," Butler said of those days. "I obviously really miss Miami, but I have great guys there, I have friendships with Lamar Odom, Brian Grant, my big brother Eddie Jones and obviously our man Dwyane Wade."
But Butler went to Los Angeles (along with Odom) as part of the Shaquille O'Neal trade. A trade that brought a ring to Miami. But does Butler ever think about what might have been if the Heat had let that young core ride?
"At times I do, but you don't want to think about it too much," he said. "And you never know what could happen, you could team up with those guys again."
Butler went to Los Angeles, where he and Kobe Bryant became tight and the Lakers started to show promise — then Butler was shipped to Washington with Kwame Brown (who eventually was traded for Pau Gasol, bringing titles to L.A.) In Washington Butler was teamed with Gilbert Arenas and Antwan Jamison on a squad that looked on paper like it should have been better than it was. Then last season that team imploded around the Arenas gun charges.
But Butler landed on his feet, traded to a contending Dallas squad and… well, we've been down that road.
Butler has too, and he wants a change.
"I definitely have been on some real good teams that had the talent to make it to that next level, but somehow some way fell short," Butler said. "I don't want that to be the situation here in Dallas. I look forward to taking it to the next level."