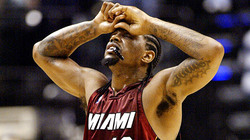 Udonis Haslem is maybe the most beloved member of the Heat — remember that 200 team employees showed up for a surprise party at his house. This is a guy who has been anything but a problem.
Which is why his arrest for marijuana in the car was a surprise. Haslem was pulled over for speeding on Sunday but after a search of the car was arrested on felony drug possession and four counts of possessing drug paraphernalia. Haslem's passenger in the car has claimed the drugs and paraphernalia were his.
Haslem's lawyer, Eric Schwartzreich, told our own Ira Winderman, writing for the South Florida Sun Sentinel, that the charges will not stick. That the police are only doing this because he is Udonis Haslem, because he is high profile.
"By law, this is called constructive possession," Schwartzreich said, "where the marijuana is not on anyone's person, there are two people in the vehicle, and one of the people in the vehicle, that being the passenger, not Udonis Haslem, says, 'Hey, this is my marijuana.' To further bolster the veracity of that statement, inside the bag, where marijuana is found, are documents bearing the name of the passenger.
"So it's not just one of these situations where the guy is claiming it or stepping up. Legitimately, the bag is found with the guy's name. The guy says, 'This is my marijuana.' "
Police are not seeing it that way. Not only have they impounded Haslem's Mercedes and have filed papers to make that permanent.
"They would have to have proof, in which there isn't any, that this was Udonis Haslem's marijuana, he knew that it was in his car, and that a felony was being committed." Schwartzreich said. "I do not think, believe, they will be able to get this vehicle."
There was also a firearm in the glove compartment of the car belonging to Haslem, according to police. Schwartzreich said that was not illegal.
He adds that he expects all the charges against Haslem to go away.
Whatever happens this is not something that will keep Haslem from playing — the NBA does not suspend for first-time drug issues, it sends the player to counseling.
But the damage to a reputation is much harder to repair.